Happy Boxers
Please take a moment to see how Buckeye Boxers has helped puppies and owners come together to share in that special bond of LOVE!
---
We love our Roxy! She was everything promised and more. Our spunky little girl brings us so much happiness. She's amazing and gorgeous, and came well potty trained. Thank you buckeye boxers for the perfect puppy!
-Laura T.
**Picture is of: Bella, Roxy, Daddy and Ryry
---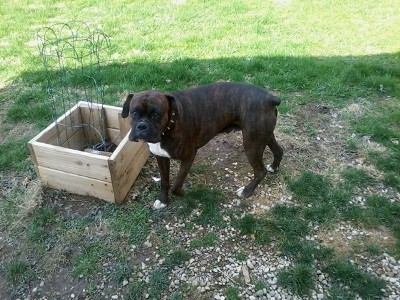 Dexter is 2 years old, 72 lbs and very smart. He can sit, shake, high 5, Low 5, lay down and I am getting him to lay an rollover now. He is very guard like and loves his yard!
-Eric V.
---
I just want to let you know how much we love our new puppy. We have renamed Velma, she is perfect and so well behaved. My Vet is so impressed with her disposition. Again thank you so much!
-Melissa W.
---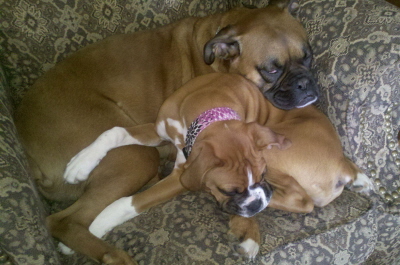 Rosie is a sweet and loving little girl with a bit of an attitude that makes us laugh. She is very silly and loves to run, wrestle, go on car rides, and play frisbee with her big brother, Mac. At the end of the day, nothing makes her happier than cuddling next to us on the couch.
-Allison S.
**Pictured: Top- Rosie, Bottom- Rosie & Mac
---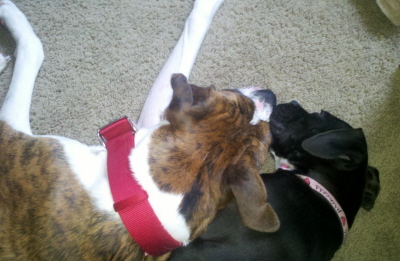 Bailey's growing so fast, she's so loving. She loves to love on every body and see people. Her and my male Rambo are so close, they relate with one another so well they act like they are married couple. He loves to sleep with her with his front leg over her. Bailey has a very a good temper, she is so friendly and is doing excellent.
-Ashley
**Pictured: Rambo and Bailey
---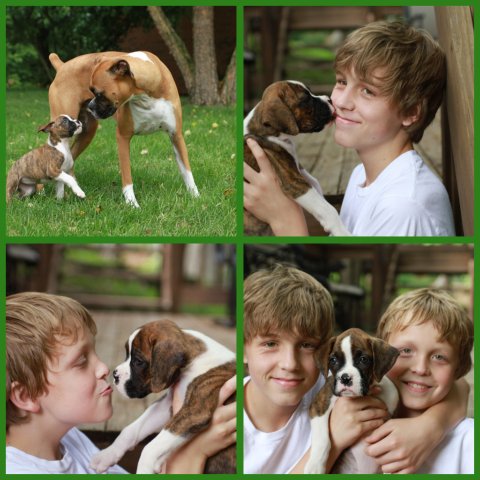 Gracie has settled in so nicely in our home and has quickly become part of our family. Her big brother, Champ, is finally figuring out how to run and play with her, and she's learning quickly that she can't nip at him with her sharp little puppy teeth. Our children, Ben and Sam are loving her! My husband and I are too. We are so glad we decided to make this leap and get our second boxer. Thanks again for such a great puppy!
-Tina
**Pictured: Gracie, Champ, Ben and Sam
---
We just love him! He's just a big goofball and so full of fun.
-Thanks, the Giarranos
**Pictured: Blue
---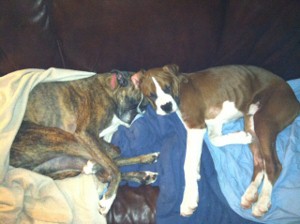 Just wanted to take a moment to say thanks for such a great pup. If you remember my daughter and I picked up the green ribbon male on December 19, 2012. He's now named Bogie, named in honor of beloved dog Humphrey. The vet says he is in great shape and is has a great disposition. He is growing and the vet agrees with you that he is going to be a BIG boy. The picture I have attached has Bogie right at home with our female Beans. Bogie's house training is coming along and he's doing very well with obedience training. Thanks again.
-Annemarie Finch
**Pictured: Beans and Bogie

---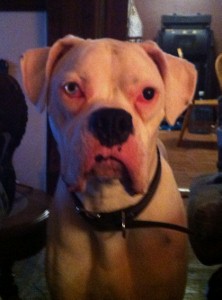 Just letting you know he is doing well. He is 67 lbs and very happy. High energy and loves to play!
-Rick & Kristy
**Pictured: Simon

---
Our girl Gracie. She will be two years old - May 1, 2013. Such a GOOD dog! We love her so much.
- Tina
**Pictured: Gracie

---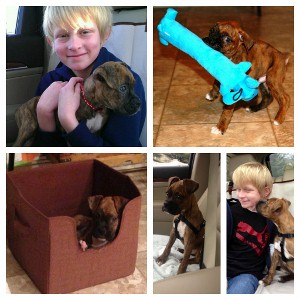 Rocco is amazing!!!!! Took him for his second vet appointment and he is up to 11.8 lbs already! We love this little guy so much... he is the sweetest little thing EVER! I have a ton of pictures and I would love to share them with you for the website! Thank you so much for breeding such a great little guy!
- Lee Ann Shaffer & Family
**Pictured: Daniel & Rocco

---
If you would like to share your story with us and others, please send me your story with or without a photo (please share who is in the photo)and we will add you to our HAPPY BOXERS Page!